Natas & Bowls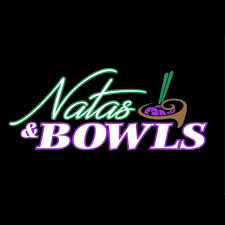 Hang on for a minute...we're trying to find some more stories you might like.
Are you a follower of the popular acai bowl trend? Well, everyone in NAHS knows about the local Cafe Mauro located a mere block away from the school. However, you may not know that the owners actually have another establishment called Natas & Bowls on Kearny Avenue.
There, you can order an acai, pitaya, chocolate berry, or "super green" bowl mixed with all kinds of toppings. As for the other half of its name, they have Pasteis de Natas, or custard egg tarts of various flavors. If you are in the mood for a heavy meal, they carry sandwiches, salads and more; much like Cafe Mauro. Considering that they are still growing, their menu is destined to expand over time and carry appropriately seasoned specials.
As for the ambiance, it is designed for a young, modern demographic with chalkboard walls, usable record player, and indie music playing. The young and friendly staff is always helpful. Overall, it is a very cozy place to hang out with friends and have a tasty snack. Now that they recently extended their hours to be opened on Sundays, you can stop by any day of the week!