North Arlington High School Students Take Their First Class at BCC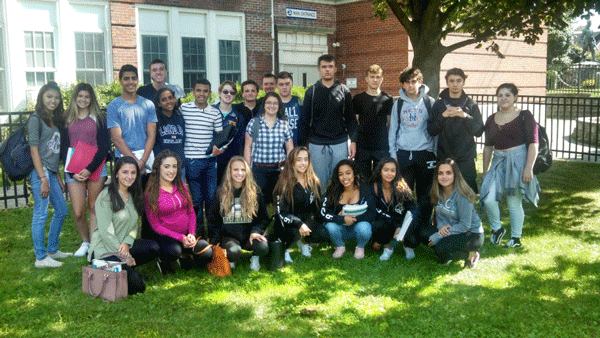 Hang on for a minute...we're trying to find some more stories you might like.
On Friday, September 1, 2017, juniors enrolled in the Early College Academy at North Arlington High School (NAHS) returned from their very first college class at Bergen Community College (Meadowlands).  Students spent the afternoon learning American Sign Language, as their first step towards completing an Associate Degree in conjunction with a high school diploma! 
The Early College Academy is a unique program for students to pursue an Associate Degree in Business Administration, Criminal Justice, or Liberal Arts.
Pictured from left to right (Standing):  Lauren Ann Asuzano, Alyssa Tattoli, Jonathan Estfanous, Alex Regan, Christina Harris, Pedro Bandeira, Joseph Rutigliano, James Phelan, Louis Visotcky, Cassie Armout, Spencer Ryan, Matt Lynch, Patrick Czachor, Michael Awad, Jayden Martinez, Olivia Ruiz. Pictured from left to right (Kneeling):  Francesca Petrullo, Melissa Michaud, Nicole Torsiello, Kayla Soares, Arianna Hernandez, Arianna Pichardo, Victoria Martins.