Movie Review: Bohemian Rhapsody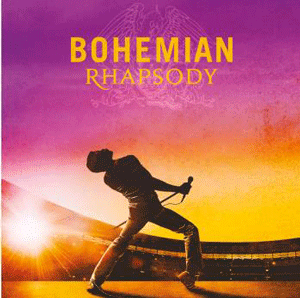 Hang on for a minute...we're trying to find some more stories you might like.
"Is this the real life? Is this just fantasy?" The answer is no! The Freddie Mercury/Queen movie is finally out in theatres! "Bohemian Rhapsody" stars Rami Malek (Freddie Mercury), Ben Hardy (Roger Taylor), Gwilym Lee (Brian May), Joseph Mazzello (John Deacon), Lucy Boynton (Mary Austin), and many more talented actors and actresses. So far, the box office is over $65,633,193 according to Box Office Mojo. The movie follows the life of Freddie Mercury and the growth of Queen as a band, including many of their hit songs and how the band members came up with the lyrics for all.
Without giving away too much, I will say that the movie was not overly grim or dark. Mercury many times established that he wanted to be a performer before anything else, and that he was born to one. He would not have wanted a movie about Queen to focus on his tragic death, which 'Bohemian Rhapsody' honored. It was a bit fast-paced but covered every era for Queen, impressively with accurate and colorful costume choices. The remaining members of Queen and Mercury's sister were also involved with the filming, and Mercury's lifetime friend, Mary Austin, was also consulted for the script-writing. As a result, fans were able to get a glimpse of the true Queen.
I encourage everyone to see this movie. 'Bohemian Rhapsody' shows another side of Queen that many people have not yet experienced, all while keeping the audience entertained by playing their hits throughout. The concert footage was quite possibly the best aspect of the movie, especially the final scene of Queen's concert at Live Aid in 1985. Malek delivered a spot-on portrayal of Freddie Mercury, complete with the outfit and the attitude. As someone who has grown up listening to Queen, I wholeheartedly endorse this movie and I give it a 9/10.