90th Annual Academy Awards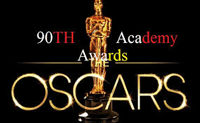 Hang on for a minute...we're trying to find some more stories you might like.
On Sunday, March 4th, 2018, the 90th annual Academy Awards, hosted by Jimmy Kimmel, aired on ABC. After the Spirit Awards aired on March 3rd, speculation arose that Jordan Peele's critically acclaimed horror movie, Get Out, would win Best Picture at the ceremony. In the past, the Spirit Awards have accurately predicted which feature will take home the coveted prize. This came as a shock to many because of the hype surrounding the movie, Three Billboards Outside Ebbing, Missouri, with many experts predicting that it would take home Best Picture. Besides these films, the other nominated movies included: Call Me by Your Name, Darkest Hour, Dunkirk, Lady Bird, Phantom Thread, The Post, and The Shape of Water. At the end of the night, Guillermo del Toro's science-fiction love story, The Shape of Water, was awarded the Best Picture. Other big awards included Gary Oldman's win for Best Actor for his portrayal in Darkest Hour, while Frances McDormand won Best Actress for her role in Three Billboards Outside Ebbing, Missouri.
Sam Rockwell and Allison Janney won Best Supporting Actor and Actress for their work in Three Billboards and I, Tonya. Indeed, Jordan Peele's win for Best Original Screenplay for Get Out made Oscar history, as he was the first African American to win in this category. The only two movies that were completely shut out during the ceremony were Lady Bird and The Post, as they did not receive any awards for the categories in which they were nominated. Overall, while my personal favorites did not receive the awards, I enjoyed watching the ceremony, as it showed recognition to some of the year's best cinematography. I hope 2018 will produce more thought-