Joanne World Tour Experience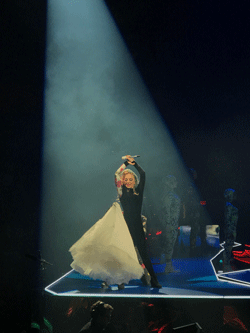 Hang on for a minute...we're trying to find some more stories you might like.
After headlining the most-viewed Super Bowl Halftime Show in history, Lady Gaga announced her anticipated Joanne World Tour. It commenced in August and will run through February, including international shows. Being an avid Lady Gaga fan, I quickly secured tickets to both of her sold-out shows at Citi Field on August 28th and 29th, and most recently had the opportunity to experience the tour in an arena setting at Mohegan Sun Arena in Uncasville, Connecticut. Time after time, Lady Gaga's spectacular show never failed to amaze me. From a crowd of more than 36,000 fans at Citi Field to 10,000 in Mohegan Sun, Lady Gaga certainly knows how to put on a show.
Without a doubt, from the past tours I attended, the Joanne World Tour is Lady Gaga's strongest one yet. From her pitch-perfect vocals, to the interactive stage design, video interludes, expansive setlist, choreography, and production, this tour is certainly an unforgettable experience. High-voltage hits such as Bad Romance and Just Dance have the entire audience on their feet singing and dancing along, while emotional ballads such as Joanne, Angel Down, and Million Reasons resonate with the fans, creating an emotional atmosphere.
Along with belting out her hits, Lady Gaga takes moments in between songs to address the audience about important topics, such as mental health awareness, and preaches for universal equality, self-love, and acceptance. Overall, I am beyond grateful I had the opportunity to witness the Joanne World Tour in all of its glory more than once. Each time I attended, I discovered a new detail that I absolutely fell in love with. In the end, I have great memories and photos to cherish until the next time she comes back to the Tri-State area!